Alessandro Tuccillo
Associate Professor
SSD: M-STO/02 - modern history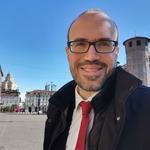 Contacts
n/d
Campus Luigi Einaudi
Settore D3, III piano, stanza 08
Lungo Dora Siena, 100
10153 Torino

Link webex: https://unito.webex.com/meet/alessandro.tuccillo
At
Department of Cultures, Politics and Society
Dipartimento di Culture, Politica e Società
Corsi di Studio del Dipartimento di Culture, Politica e Società
Curriculum vitae
Curriculum Vitae (0.2 MB)
Research products
All my research products
Selected research products
Monografie
Umanità contesa. L'apologetica di Giambatista Roberti contro il «filosofismo», con l'edizione delle Annotazioni sopra la Umanità del secolo decimottavo dell'abate Giambatista Conte Roberti. Coll'aggiunta di una Lettera sopra i Negri (1786), Roma, Edizioni di Storia e Letteratura, 2020
Il commercio infame. Antischiavismo e diritti dell'uomo nel Settecento italiano, Napoli, ClioPress – Edizioni del Dipartimento di Studi Umanistici, Università degli Studi di Napoli Federico II, 2013
Edizioni di fonti

Dossier critico e annotazione dell'articolo di Jaucourt, ESCLAVAGE, (Droit nat.​​ Religion​​, Morale), in Encyclopédie, V, pp. 934-939, progetto ENCCRE (Édition Numérique Collaborative et CRitique de l'Encyclopédie), 2020, http://enccre.academie-sciences.fr/encyclopedie/article/v5-1910-0/.
Matteo Galdi, Memorie diplomatiche, a cura di Alessandro Tuccillo, Napoli, Guida, 2008
Articoli
5 maggio 2021. Intorno al bicentenario della morte di Napoleone, in «Studi storici», 63, 2022, pp. 989-1019
Razza, storia, politica: questioni di periodizzazione, in «Contemporanea», XXV, 2022, 1, pp. 139-153
Abolire il gioco per placare l'ira divina. La diplomazia pontifica e il terremoto del 1688 a Napoli, in «Mediterranea. Ricerche storiche», 51, 2021, pp. 181-206
«La schiavitù non è dell'interesse del genere umano». Note su Antonio Genovesi, in «Il pensiero economico italiano», XXIX, 2021, 1, pp. 63-82
La politique de la Restauration. Edmond de Boislecomte, la rivoluzione a Napoli e il congresso di Troppau (1820), in «Le carte e la storia», XXV, 2019, 2, pp. 65-81
Il rifiuto impossibile. Stati italiani e abolizione della tratta atlantica degli schiavi (1834-1839), in «Passato e presente», 104, 2018, pp. 44-68
Napoli 1821: storia di una delazione. La Francia della Charte tra ambizioni geopolitiche mediterranee e i fantasmi del 1793, in «Studi storici», 58, 2017, pp. 573-603
«La vertu sous des apparences ridicules». Voltaire et le mythe politique du «bon quaker», in «Dix-huitième siècle», 49, 2017, pp. 311-326
«La liberté de penser en hommes». Quaccherismo, tolleranza religiosa e virtù politica nell'Histoire des deux Indes di Raynal, in «Studi storici», 57, 2016, pp. 753-772
La frontière de la civilisation. Royaume de Naples et Méditerranée dans les écrits des illuministi méridionaux, in «Rives méditerranéennes», 49, 2014, pp. 159-173, ripubblicato in L'invention des Midis. Représentations de l'Europe du Sud. XVIIIe-XXe siècle, sous la direction de Nicolas Bourguinat, Strasbourg, Presses universitaires de Strasbourg, 2015, pp. 31-45
Antiesclavagisme sans colonies: Illuminismo et esclavage colonial, in «Dix-huitième siècle», 45, 2013, pp. 178-197
Droit de punir et légitimation de la peine de mort dans la Science de la législation de Gaetano Filangieri, in «Corpus», 62, 2012, pp. 231-243
L'illuminismo napoletano e le frontiere delle riforme. Appunti sul pensiero giuspolitico di Francesco Mario Pagano, in «L'Acropoli», XI, 2010, 2, pp. 75-84
Schiavi, colonie, rivoluzioni. Note in margine a due traduzioni recenti, in «Studi storici», 49, 2008, pp. 109-133
Saggi in opere collettive (selezione)
La honte de l'humanité. Jaucourt e la storia della schiavitù, in L'invenzione del passato nel Settecento, a cura di Marina Formica, Anna Maria Rao, Silvia Tatti, in Roma, Edizioni di Storia e Letteratura, 2022, pp. 231-243
Il dovere di provare le virtù e i talenti dei neri: De la littérature des Nègres (1808) di Henri Grégoire, in Le realtà della schiavitù: identità e biografie da Eumeo a Frederick Douglass, Atti del XL Convegno internazionale del Groupe International de Recherches sur l'Esclavage depuis l'Antiquité (G.I.R.E.A), Napoli, 20-22 dicembre 2017, a cura di Francesca Reduzzi Merola, Maria Vittoria Bramante, Adelaide Caravaglios, Napoli, Satura, 2020, pp. 549-572
«Il n'est d'esclaves que chez les rois». La festa dell'Uguaglianza del 20 ventoso anno II a Commune-affranchie (Lione), in Il popolo nel Settecento, a cura di Anna Maria Rao, Roma, Edizioni di Storia e Letteratura, 2020, pp. 267-280
«Non si dà vera Umanità senza Religione». Le Annotazioni di Giambattista Roberti sull'umanesimo dei «filosofi», in Il Settecento e la religione, a cura di Patrizia Delpiano, Marina Formica, Anna Maria Rao, Roma, Edizioni di Storia e Letteratura, 2018, pp. 251-263
L'esprit de commerce à l'épreuve de la colonisation dans le traité Della moneta, in Ferdinando Galiani, économie et politique, sous la direction de Cecilia Carnino et André Tiran, Paris, Classiques Garnier, 2018, pp. 485-505
Faire des conquêtes pour l'amour de l'humanité. Circulation des idées sur la "colonisation nouvelle" au XVIIIe siècle, in La colonisation nouvelle (Fin XVIIIe-début XIXe siècles), sous la direction de Marcel Dorigny et Bernard Gainot, Paris, SPM-L'Harmattan, 2018, pp. 33-47
L'«empire du hasard» ou de la Révolution en cours. La naissance des États-Unis dans l'Histoire des deux Indes, in Autour de l'abbé Raynal: genèse et enjeux politiques de l'Histoire des deux Indes, textes édités par Antonella Alimento et Gianluigi Goggi, Ferney-Voltaire, Centre international d'études du XVIIIe siècle, 2018, pp. 131-144
La macchia della schiavitù negli Stati uniti d'America. La riflessione abolizionista di Filippo Mazzei, in Agli albori delle democrazie moderne. Filippo Mazzei (1730-1816), a cura di Renato Pasta, Roma, Edizioni di Storia e Letteratura, 2018, pp. 59-81
La «situazione» mediterranea di Napoli e del Mezzogiorno nel progetto riformatore settecentesco, in Napoli e il Mediterraneo nel Settecento. Scambi, immagini, istituzioni, a cura di Anna Maria Rao, Bari, Edipuglia, 2017, pp. 229-243
Esclavage, in Dictionnaire de la Méditerranée, sous la direction de Dionigi Albera, Maryline Crivello et Mohamed Tozy, Arles, Actes Sud-MMSH-CNRS, 2016, pp. 504-510
Lumières antiesclavagistes. Le livre XV de L'Esprit des lois sous le regard du Settecento, in (Re)lire L'Esprit des lois, études réunies par Catherine Volpilhac-Auger et Luigi Delia, Paris, Publications de la Sorbonne, 2014, pp. 155-175
Recensioni e note critiche (selezione)
Pierre Musitelli, Le Flambeau et les Ombres. Alessandro Verri, des Lumières à la Restauration (1741-1816), Rome, École française de Rome, 2016, in http://montesquieu.ens-lyon.fr/spip.php?article2401, 2017
Michel Porret et Élisabeth Salvi (dir.), Cesare Beccaria. La controverse pénale. XVIIIe-XXIe siècle, Rennes, Presses universitaires de Rennes, 2015, in «Criminocorpus. Revue d'Histoire de la justice, des crimes et des peines», 2017, https://criminocorpus.revues.org/3476
Rolando Minuti, Una geografia politica della diversità. Studi su Montesquieu, Napoli, Liguori, 2015, in http://montesquieu.ens-lyon.fr/spip.php?article2346, 2016
Caroline Oudin-Bastide et Philippe Steiner, Calcul et morale. Coûts de l'esclavage et valeur de l'émancipation (XVIIIe-XIXe siècle), Paris, Michel, 2015, in «European Journal of Sociology», 56, 3, 2015, pp. 535-537
Pierre Briant, Alexandre des Lumières. Fragments d'histoire européenne, Paris, Gallimard, 2012, in «European Review of History / Revue européenne d'histoire», 21, 3, 2014, pp. 429-431
Patrizia Delpiano, La schiavitù in età moderna, Roma-Bari, Laterza, 2009, in «Rivista storica italiana», CXXIII, 2011, pp. 373-381
Jean Ehrard, Lumières et esclavage. L'esclavage colonial et l'opinion publique en France au XVIIIe siècle, Bruxelles, Versaille, 2008, in «Rivista storica italiana», CXXI, 2009, pp. 925-937
Research topics
Schiavitù coloniale, tratta dei neri, abolizionismo, geopolitica del Mediterraneo e Stati italiani (secoli XVIII-XIX).
Illuminismo italiano e francese.
L'eredità dell'illuminismo: diritti dell'uomo e apologetica cattolica (secoli XVIII-XIX).
La politica estera della Francia della Restaurazione: penisola italiana e Mediterraneo.
Disastri naturali nei territori della Monarchia ispanica (secc. XVII-XVIII): reti di informazioni ecclesiastiche, diplomazia pontificia, rapporti tra Stato e Chiesa.
Activities in agenda
Academic bodies
Academic positions pro-tempore
Delegato del Direttore presso la Fondazione Parini Chirio
Office hours
Il ricevimento si tiene in presenza, presso lo studio del docente, o in modalità a distanza attraverso la piattaforma webex: https://unito.webex.com/meet/alessandro.tuccillo
Le studentesse e gli studenti che intendono essere ricevuti dovranno inviare un'email al docente per fissare un appuntamento.